Nike Pegasus Trail 2
The Nike Pegasus Trail 2 is a very good versatile trail shoe with comfortable and responsive cushioning.
$129.95
Best deal at:
roadrunnersports.com
Buy now
Last Amazon price update was: May 16, 2021 1:46 am
×
Product prices and availability are accurate as of the date/time indicated and are subject to change. Any price and availability information displayed on Amazon.com (Amazon.in, Amazon.co.uk, Amazon.de, etc) at the time of purchase will apply to the purchase of this product.
Review Analysis
Very good trail shoe: comfortable, versatile, responsive and suitable for most terrains
Nike expands its trail collection (which already includes the Wildhorse and Terra Kiger) with this second Pegasus Trail model. Rather than a direct successor of the Nike Air Zoom Pegasus 36 Trail released in 2019, the Pegasus Trail 2 appears as a combo of various recent Nike models like the Vaporfly and the Turbo 2. For example, the React foam now equips the entire sole (there are no more Zoom Air units). The stack is relatively high with 31 mm under the heel and 21 mm under the forefoot. The midsole is soft but the rubber of the outsole compensates with its firmness which prevents the cushioning from being overly soft. Trailers have been impressed by the comfort and bounce of the cushioning. They also found it to be very versatile, i.e. suitable for all paces and terrains. Besides, even without the rock plate, they did not feel any pain after several hours of running. The only negative point would be the lack of stability on uneven surfaces due to the softness of the cushioning. Combined with the flexible upper, this somewhat limits the effectiveness of the shoe on very technical terrains that require a secure balance and precise foot lockdown. The upper is made of a solid mesh with a small rubber toe cap at the front. It's well ventilated to allow the foot to breathe during the effort. The toe box is relatively wide but some runners found it a little low. However, they note that this problem disappears over time as the mesh loosens. There is also a 'faux' (integrated) gaiter to better protect the foot as on the Wildhorse. Finally, the grip is also very good thanks to the rubber outsole and its wide lugs of medium depth (about 3 mm). The traction can come up a bit short on very soft mud and compact snow but allows you to also run on the road, which is ideal if you like to alternate. Overall, the Nike Pegasus Trail 2 is a very good, comfortable, and versatile trail shoe with responsive cushioning to have fun on most terrains.
PROS
Great comfort
Effective and bouncy cushioning
Reliable traction on most terrains
Versatile shoe
Sleek and modern design
CONS
Toe box a little low
Mesh a bit lose around the midfoot (if you have thin feet you may have to size down)
Lack of stability on uneven surfaces
Facts
Model:
Nike Pegasus Trail 2
Facts
| | |
| --- | --- |
| Terrain | Trail |
| Heel to toe drop | 10 mm |
| Heel stack height | 31 mm |
| Forefoot stack height | 21 mm |
| Pronation | |
| Features | |
| Weight (men) | 302 g/10.7 oz |
| Weight (women) | 262 g/9.2 oz |
| Release year | 2020 |
Cushioning
| | |
| --- | --- |
| Bounce (1-5) | 4 – Bouncy |
| Softness (1-5) | 4 – Soft |
Use
| | |
| --- | --- |
| Distance | Mid distance, Long distance |
| Speed | Slow, Moderate, Fast |
| Workout | Daily running, Recovery, Speed |
Description
Best offers
Roadrunnersports.com
Fleetfeet.com
$204.98
2 new from $204.98
as of May 16, 2021 1:46 am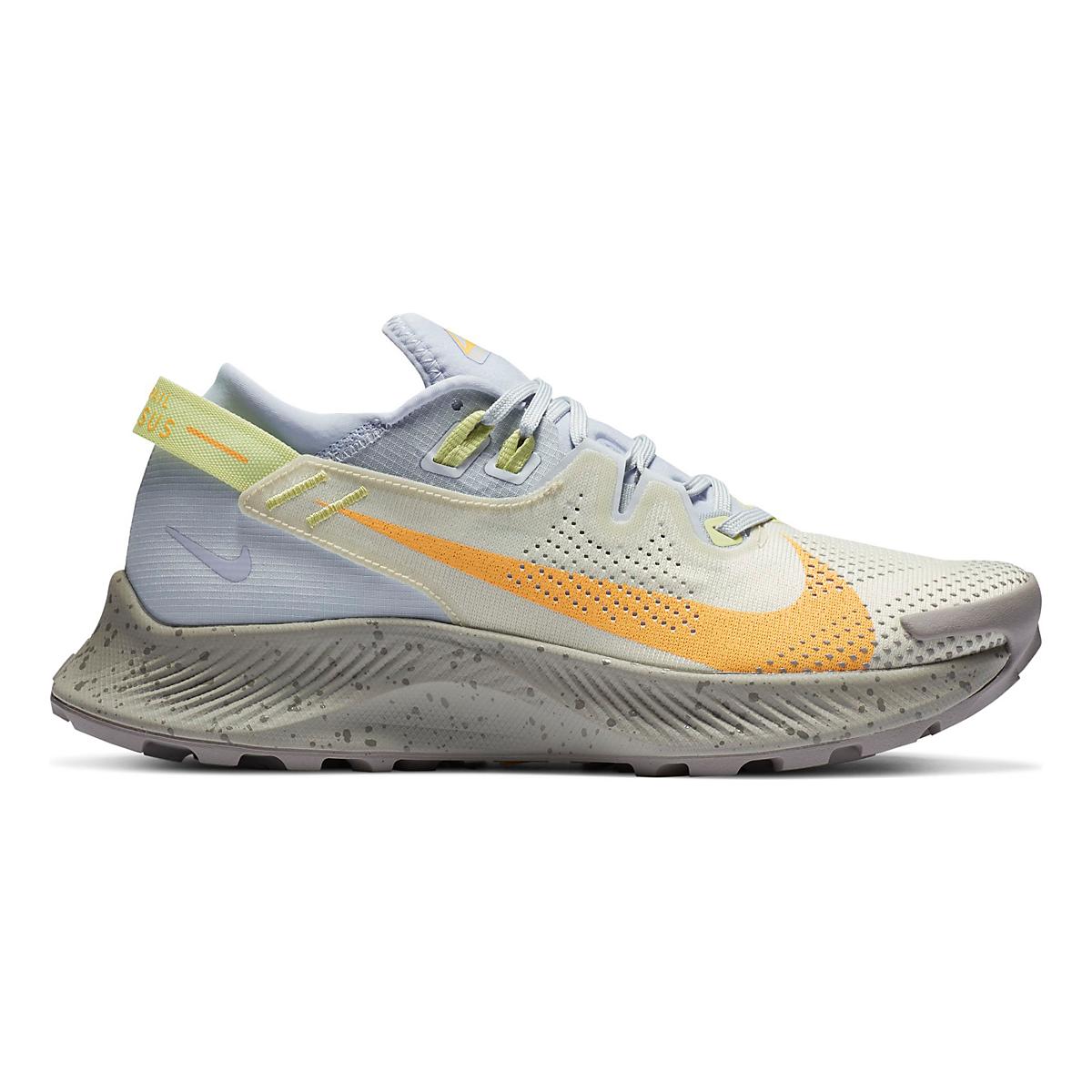 Roadrunnersports.com
$130.00
as of May 16, 2021 1:46 am
Fleetfeet.com
back to menu ↑
Technologies
Outsole
There is durable rubber with a wave-like pattern on the outsole of the Nike Pegasus Trail 2. It is specially designed to provide optimal abrasion resistance while making the ride more fluid. Also, the flawless traction of the platform allow trailers to embark on the roughest grounds with confidence.
The outsole also features large rubber lugs of medium depth for optimal grip on all terrains.
Finally, claw-like fangs under the forefoot provide an even safer grip.
Midsole
The midsole uses the React cushioning technology. This is a soft foam developed by Nike to ensure maximal comfort by absorbing impacts on the trail while allowing a good energy return for a responsive ride.
Upper
The upper of the Nike Pegasus Trail 2 translates into an engineered mesh. This configuration is breathable and provides a great foot lockdown – snug and flexible.
The midfoot cage keeps your feet secure at all time while running.
Then, the faux gaiter acts as a shield against mud, stones, and other debris. It prevents water from getting inside the shoe. This set-up has the advantage of being integrated into the upper, which is much less noticeable than a classic gaiter (albeit less effective, of course).
The perforated tongue allows water to drain more easily so that the shoe dries more quickly.
Lastly, the horizontal pull tab makes it easy to take your shoes on and off.
back to menu ↑
Frequently asked questions (FAQ)
Does the Nike Pegasus Trail 2 fit true to size?
This trail shoe uses a normal sizing system. Overall, runners have noticed that it fits slightly larger, especially in the midfoot area. So if you have thin feet, it may be more comfortable to opt for half a size smaller. In any case, if this is your first pair of Nikes, a visit to the store is recommended to make sure you choose the most comfortable size.
Is this trail shoe suitable for heavy athletes (85 kg/187 lbs or more)?
Only one study to date has observed the link between sole thickness, risk of injury, and weight. According to the conclusions of this study, minimalist shoes can increase the risk of injury for athletes weighing more than 71 kg/157 lbs. Other than that, there is no guidance for other categories of running shoes. The Pegasus Trail 2 has a relatively high stack, so it should be suitable for your weight regardless of what it is.
Are these shoes suitable to run an ultra-trail (e.g. 50 or 100 miles?
This Nike trail shoe is versatile enough to adapt to different types of workouts and distances. Therefore, you can take it for your daily workouts (e.g. speed, long runs). When it comes to ultra-trail, it depends primarily on your preferences. If you can run comfortably with these shoes over long distances then there should be no problem taking them for an ultra-trail race. However, as mentioned in the analysis, some runners have found the PT2 a bit unstable on uneven surfaces, which can be an issue considering that the terrains of an ultra-trail can vary greatly.
Is this shoe waterproof?
No, these trail shoes are not waterproof. Indeed, they do not use any Gore-Tex technology. Nevertheless, they are designed to resist water and drain quickly. Your foot should, therefore, stay dry if you run in light rain or if you go through a puddle. It's a different story if the rain is more intense: your foot may get wet after a while. This configuration has the advantage of increasing airflow to let your feet breathe more comfortably. Also, it's softer and lighter compared to a Gore-Tex type waterproof membrane.
back to menu ↑
Comparisons – Nike Pegasus Trail 2 vs :
Nike Air Zoom Pegasus Trail 36 Trail
The first and second Pegasus Trail models are ultimately very different from each other. The Pegasus Trail 2 has a wider platform and a looser fit while ensuring a better grip. However, the downside of this change is a heavier build with 50 g (1.8 oz) more on the second version.
Nike Wildhorse 6
These two shoes have very similar configurations in terms of weight, stack height, cushioning (React foam), and upper (integrated gaiter). Trailers who tested both shoes preferred the Pegasus overall because of its more comfortable cushioning and better stability (although it's far from optimal).
Nike Air Zoom Terra Kiger 6
The Terra Kiger offers a thinner sole with a lower drop (4 mm drop compared to 10 mm for the PT2). Its cushioning is, therefore, less comfortable for long distances and makes it especially suitable for speed sessions over short to medium distances.
Hoka One One Speedgoat 4
The SG4 offers a tighter upper for a more precise foot lockdown and deeper lugs. This shoe is therefore better suited for highly technical trails that require flawless grip and stability. However, with its looser upper and softer React foam, the Pegasus Trail 2 is more comfortable over longer distances, provided you don't push it over very difficult terrains.
Reviews (1)
1 review for
Nike Pegasus Trail 2